Sweet scoop for beet sugar in USMCA
Posted on November 14, 2018 by Taber Times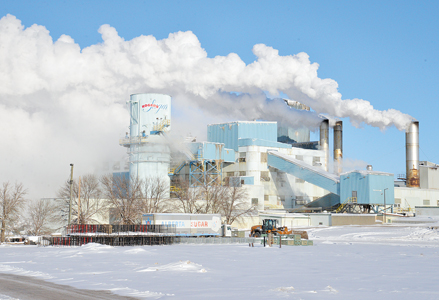 TIMES FILE PHOTO
By Trevor Busch
Taber Times
tbusch@tabertimes.com
In a surprising win for local sugar producers, under the terms of the new U.S.-Mexico-Canada Agreement refined beet sugar has been granted enhanced access to the U.S. market.
Signed on Sept. 30, the USMCA allows access for an additional 9,600 tonnes, almost doubling the existing 10,300 tonnes currently in place.
"It's very similar to what we had in place for the CPTPP (Comprehensive and Progressive Agreement for Trans-Pacific Partnership) that they did not choose to get involved in," said Alberta Sugar Beet Growers executive director Melody Garner-Skiba. "So an additional 9,600 tonnes — it pretty much doubles our preferred access, our TRQ (tariff-rate quota)."
As sugar beet processing in Canada is exclusive to Taber's Lantic Sugar plant, any increase in tonnage or acres planted would be a benefit to the local industry.
"So what we're hoping it will translate into is some additional acres from the factory, for probably 2020 — I don't see it happening in 2019 — but it would maybe make sense for us to have hopefully some additional acres in 2020."
Garner-Skiba admits the ASBG and its membership had been collectively holding their breath while the USMCA was negotiated, as there had been fears Canada's niche in the sugar beet industry could have been tossed into the mix as a bargaining chip at the table.
"This did come as a surprise to us, in the sense that sugar hadn't been talked about. We knew sugar was being looked at, but sugar is a highly political commodity, especially with the American market because they've got a huge sugar industry down there, and advocacy group. It was beneficial for us in the very last stages of negotiation, they were able to secure access for us, because initially when this deal was started our hope was that we could just maintain status quo and not lose. So this was a very pleasant surprise for us in the end."
While beet-specific sugar netted an increased quota, the USMCA also included a significant boost of 9,600 tonnes for sugar-containing products from any Canadian source. However, this probably won't translate into benefits for Alberta beet producers, explained Garner-Skiba.
"Most of the sugar-containing products that are exported are going to come from Roger's factory in Montreal and the eastern refineries. What that really means is Roger's eastern factory in Montreal — their blending facility — they'll maybe be able to ship more products from there, but all those products are made using cane, not beet sugar."
Although the trade deal's enhanced quota comes as welcome news to local sugar beet producers, Garner-Skiba was hesitant to suggest the USMCA's implications will result in any increased long-term investment in Taber's aging processing plant.
"I think realistically when we look at that, what we're looking at is maybe 300 to 500 acres. So I'm not sure it's going to be what's needed to spur big investment into the plant at all."
At the field level, local beet producers have been excited about the deal's outcome while relieved that Alberta's sugar beet industry wasn't guillotined at the negotiating table.
"Producers, when an announcement like this happens, they definitely have questions, what does this mean for on the farm," said Garner-Skiba. "There's some excitement there that sugar was not traded away, because in the past sugar has been one of the ones that's been the sacrificial lamb. The fact that it wasn't this time was a really pleasant surprise, and that I think gave a boost and bump to the industry here with the producers, to see that this is an industry that's stable, it's growing, and that we can commit to long-term."
Another benefit of the USMCA allows Canada right of access to additional in-quota imports by the United States of refined sugar to a maximum of 20 per cent (beet sugar or sugar from other sources).