Disaster funding welcomed in Taber area
Posted on November 7, 2018 by Taber Times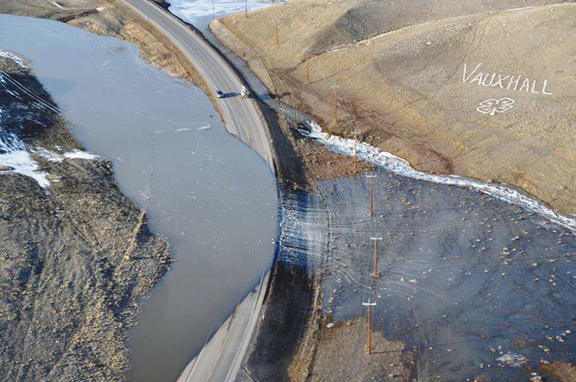 ROGUE RIVER: Floodwaters pour over Highway 36 earlier in 2018 near the Oldman River bridge. TIMES FILE PHOTO
By Trevor Busch
Taber Times
tbusch@tabertimes.com
After sustaining significant damage to district infrastructure due to overland flooding in early 2018, the province's announcement of disaster funding for municipalities and irrigation districts in southern Alberta has come as welcome news for the Taber Irrigation District (TID).
"It's very important," said TID district manager Chris Gallagher. "We've already been cut — our IRP funding, the Irrigation Rehabilitation Program has already been cut by 25 per cent — and it's going to be cut another 25 per cent. That's money that is going to significantly affect our rehabilitation program. If we weren't covered for this, it would have been yet another hit to us that we in turn would have to recover through water rates."
The province announced in October there was $29.1 million allocated for this year's spring flooding for 19 southern Alberta communities, including the M.D. and Town of Taber, a handful of northern Alberta municipalities and irrigation districts including the Taber Irrigation District, St. Mary River Irrigation District and Bow River Irrigation District.
While the province has announced an over-arching funding figure, specific breakdowns of amounts allocated to each district and municipality are not yet available.
"What we have applied for is up to half a million dollars as Taber Irrigation District," said Gallagher. "They don't just hand us the money, what they do is pre-approve a certain amount and then we need to confirm eligibility with their case manager."
Most of the funding the district eventually receives will largely be compensation for mitigation and repair work that has already been undertaken.
"For the most part, because of the approach we took," said Gallagher. "The money that was already spent was certainly associated with the emergency response, the actual work that needed to get done, the overtime with our staff that attended the emergency management meetings, that had to work overtime dealing with water flowing in our canals when we weren't running any irrigation water, and also to cover contractor costs and some of our equipment operators to manage the snow and ice and water that was running."
Various remediation projects still on the books require pre-approval, while others already completed may not receive full or partial compensation.
"Because the event happened so close to the start of irrigation season, there were a number of repairs that we were able to make just before, or that we actually had to make before irrigation season because we determined that there was a significant risk of failure if we didn't fix them, so we went ahead and did those with the understanding that we may not actually be covered. Finally, there was one particular project at the downstream end of our system — drainage check structures that were washed out — that had to wait until this fall. So for the funds that were already spent, that's to compensate for expenditures that we've already incurred. For the projects that were not yet repaired, we will need to get pre-approval for those. We're going to have to do it regardless. It has to be done, because if we don't do it then there's going to be further damages," said Gallagher.
While funding has been cut, prior investments by the province into irrigation infrastructure in the area did help avert what could have been an even more damaging situation, according to Gallagher.
"The one thing I do want to point out related to this, the fact that the government has been contributing towards to the Irrigation Rehabilitation Program has actually significantly reduced the potential damages that we would have had. If our infrastructure hadn't been rehabilitated, it would have been subject to much more damage. So the investment the government has made has already paid off significantly by the improved resilience of our infrastructure."
Although the Town of Taber was impacted much less significantly by overland flooding in early 2018, it will also see a portion of the funding allocated by the province.
Factoring in labour and equipment, emergency flood mitigation efforts for the Town of Taber were expected to top $150,000 once final costs were tallied.
"I believe we're getting that," said Prokop. "But again, I don't have the confirmation or the cheque in hand at this stage, but it's believed to be coming for sure."
Overland flooding in the community was located in the south, in close proximity to the water treatment plant, the Wal-Mart commercial area, and various south-side residences. A combination of ice-blocked culverts and ditches, large accumulations of snow on adjacent fields and significantly warmer temperatures raised the level of concern "dramatically," leading to the town declaring a local state of emergency on March 29. The local state of emergency lasted approximately three weeks and was rescinded on April 16.
According to administration, preventative measures taken by the town in initiating its Emergency Operations Centre (EOC) mitigated any major impacts the town may have faced from overland flooding, but significant time and resources were allocated toward these preventive measures, and damages to land and property were sustained.
"Funding is always important for any municipality, especially in circumstances where there aren't budgeted monies, and you're stressed into a scenario that you're not expecting, or weren't expecting, and have to cover costs for the short term. It's great that those emergency funds are available out there that the province has in their budget," said Prokop.