Harris takes the helm as M.D. of Taber reeve
Posted on October 17, 2018 by Taber Times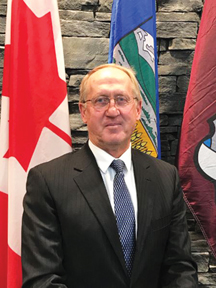 TIMES FILE PHOTO
By Cole Parkinson
Taber Times
cparkinson@tabertimes.com
After several years of having the same reeve, the Municipal District of Taber has a new man at the helm.
With Brian Brewin deciding to not let his name stand for M.D. of Taber reeve, Merrill Harris, who was born and raised in the Taber area, is the new reeve after serving as deputy reeve over the last year.
After winning the Division 1 (southwest of Taber) seat in 2013 over incumbent Don Johnson, Harris has served on the M.D. council ever since.
During the most recent election in 2017, he was elected by acclamation.
While he is now in the position, it wasn't one he was gunning for as he felt Brewin was doing an admirable job.
"First thoughts were that I didn't want this assignment. I am very happy with the job that Brian was doing. He has led the M.D. for the past eight years I believe and he has done a good job," stated Harris.
Brewin expressed to council at their September 25 meeting that he would not be putting his name forward for the reeve position moving forward after holding it since 2010.
As the M.D.'s longest-serving councillor other than Brewin, Harris was the first name put forward by Coun. Tamara Miyanaga at the M.D.'s organizational meeting on October 9.
Coun. John Turcato nominated Miyanaga for the reeve position though she declined in favour of Harris who was elected by acclamation.
With his new position on M.D. council, Harris is hoping to accomplish a number of things during his time as reeve.
Road maintenance is one of the major things he is continuing to keep an eye on, as is the rest of council.
"Managing assets, infrastructure, maintaining roads are important for everyone," said Harris.
Though a concern, he also realizes the position the M.D. is in with a decline in linear assessments in the region.
With that in mind, he says council will take things into consideration and use the money in areas that need it the most moving forward.
"We have seen a decline in linear assessments the past three or four years and that has a huge impact on municipal revenues. So we have to balance everyone's wants and wishes as far a road rehabilitation, expanded services and maintain the assets and infrastructure of the M.D.," explained Harris.
With Harris promoted to the reeve position, Coun. Tamara Miyanaga takes over as deputy reeve after winning the seat by acclamation.