Youth front and centre at Taber and District 4-H Show and Sale
Posted on May 30, 2018 by Taber Times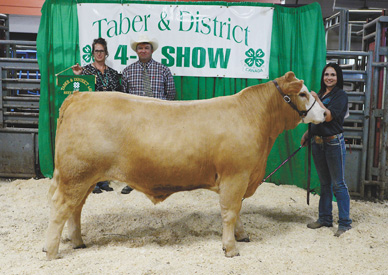 TIMES FILE PHOTO
By Greg Price
Taber Times
gprice@tabertimes.com
A rite of passage for many rural youth in southern Alberta, the Taber and District 4-H Show and Sale will be featured at the Taber Agri-Plex this upcoming Friday and Saturday.
Various clubs from Taber, Retlaw, Hays, Grassy Lake and Vauxhall areas will be featuring beef, sheep and lamb submissions for the two days.
"It seems to wrap up the year. All your hard work you get to show off and it's a really fun time for the kids at the show and sale," said Dorthea Mills, president of the Taber 4-H district. "They get to hang out with kids maybe that they don't always get a chance to see. It's a lot of pride for the kids to show off what they have done."
For the beef projects, they have to be weighed in before Nov. 15. Calves are usually received at the end of October or the beginning of November with kids looking after the animals right until the show and sale in June. Sheep projects are usually received at the end of March or beginning of April.
"You see a lot of tears over the weekend, that's for sure," said Mills as kids are separated from their projects as they are sold to a very supportive business community. "When they go to sell them, there's a lot that cry. Even my daughter, she had a couple of calves that were not very co-operative and she's saying 'oh, I hate that calf', but when the show and sale happens, there she is crying," Mills continued with a chuckle. "Kids can get pretty attached. You see 10 and 11-year-old boys walking down the alleyway towards the calves kind of with their arm around each other, because the one boy is crying and the other is comforting him. Even with the lambs, they have them for a shorter time, but because they are smaller a little cuddlier, they get pretty attached to them too."
As kids from the various clubs vie for top marks from judges, Mills noted there are the usual benchmarks that are sought for those giving marks.
"There are things you are looking for in your beef. You are looking for the straight back, a big rump and length," said Mills. "Ultimately, it's up to the judge that day what they pick. Every judge is going to be looking for something a little different. One judge might like the length of an animal better. Each judge has their own personal tastes."
Mills applauds the business community in the Taber and District Show and Sale, often drawing very favourable prices for the kids' projects.
"We've got really good support from Taber, Vauxhall, Grassy Lake, Hays, and Enchant-area businesses," said Mills. "They have all been very supportive of 4-H and very generous with the kids and their projects, and we are looking forward to that again this year."
The heifer show starts at 11 a.m. on Friday at the Taber Agri-Plex. The parade of clubs goes at 1 p.m. with the steer show at 1:30 p.m. If the show goes in an orderly fashion, the grand champion is expected to be unveiled at approximately 3 p.m.
The sheep show goes Saturday at 10 a.m. with the sale of market lambs and steers at 2 p.m.
"There is going to be a ton of sheep there this year," said Mills. "We have a lot of sheep projects this year. We look forward to having everyone out at the show and sale, and we appreciate the support we have got in the past."