Sugar beet growers ink two-year deal with Lantic Sugar
Posted on April 25, 2018 by Taber Times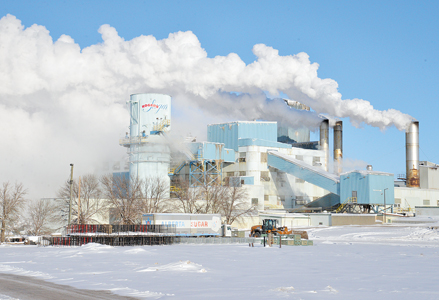 TIMES FILE PHOTO
By Collin Gallant and Trevor Busch
Alta Newspaper Group
Sugar beet growers and Lantic Sugar signed a two-year contract extension last week, which includes a commitment to develop a rolling contract when the new pact expires in late 2020.
The joint statement hints at longer term investment in the facility at Taber, which the company threatened to shutter in 2015 after growers rejected what was called "a final offer."
A deal was eventually hammered out in mid-May that year.
On Friday, the Alberta Sugar Beet Growers (ASBG) stated that 28,000 acres will be planted for the 2019 season to supply the facility. The agreement also includes the 2019 and 2020 growing seasons, after which the two sides hope to a have the framework of a rolling contract in place.
"It's a two year contract. There have been some adjustments, there may be a bit of a reduction in price, but we felt as a board that it was necessary to allow the plant to make upgrades and provide some stability for the industry," said ASBG president Arnie Bergen-Henengouwen. "This is still a bridging contract. Part of the agreement was that we are both committed to formulating a rolling contract with price discovery in it. We made an agreement, we're going to start on that this fall and see if we can work through that."
Contract talks were finalized April 16.
"In the current business climate, it is imperative that we have the ability to sell our product in advance so that we can strategically plan for investment in the plant," said Lantic's manager of operations in Taber, Andrew Llewelyn-Jones. "This contract extension provides us the certainty we need to move forward."
The plant, which employs up to 250 workers at peak times, can produce more than 100,000 tonnes of sugar each year that's sold under the Rogers brand.
Unionized workers at the plant signed a five-year contract in early 2017.
Some of the highlights of the deal include bulk return increases to $347 per tonne of sugar in 2019 and $348 per tonne of sugar in 2020, and a commitment to plant investment to take care of environmental and regulatory concerns by 2020. Other investments include two new low profile decks for piling grounds and a scale in Picture Butte by contract's end, and development of an annual pile management strategy.
"We're happy that we were able to keep the forward momentum of the industry going, and this is a contract that opens up that future for us," said Bergen-Henengouwen.
On the NAFTA negotiations front, where concessions on Canadian sugar has been rumoured as a potential bargaining chip, Bergen-Henengouwen hasn't seen any recent developments.
"Nothing new to report. There is talk in the news in the last couple of days, but there has been no agriculture discussions ongoing since the last meeting in Montreal. Agriculture hasn't been on the table."