Longer stay of Old Man Winter causing ag delays
Posted on April 25, 2018 by Taber Times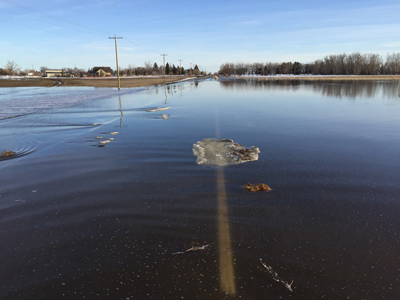 TIMES FILE PHOTO
By Greg Price, Trevor Busch and Cole Parkinson
Taber Times
As the southern Alberta region continues to recover from overland flooding, so too have agricultural producers who have seen delays in their planting season from Old Man Winter who seems to have finally relented.
Planting of the potato crop has been delayed, but if current weather patterns hold up, the delays should not be overly worrisome.
"If this was the 20th of May I'd say we would be concerned. We're later than what we have been the last couple, three years, but we are not overly delayed," said Terence Hochstein, executive director of the Potato Growers of Alberta. "It takes 10 days to get the crop in. It will be tight and you will start to see possible yield loss after about the 20th of May. It all depends on the variety and it depends on what Mother Nature gives you. We have some time yet, it's not dire by any means."
Dealing with moisture from all over the region, there may be some farmers who have early field run contracts who may or may not have to find different fields.
"Because that was the field you planned on putting your early crop in last year, if it happens to be the last one to dry out on your farm this year, you may have to look at something different," said Hochstein. "But, right now everything is too wet, we will have to see."
Once the potato crop is seeded, it will be at the mercy of Mother Nature like any other crop where hopefully warmer temperatures continue.
"It has more to do with germination (than disease). If you get your crop in and then you get two or three weeks of slop, of wet, cold ground with ground that has never really had a chance to warm up, then you end up with some seed piece decay," said Hochstein. "It's no different than your wheat rot or peas rot, or anything else. If that ground gets cold and wet again, it just sits there, you end up with seed piece decay."
Hochstein looked over the seeding dates over the last 11 years, the latest average planting date was in 2010 and it was May 10. Last year, the average planting date was April 20.
"It's all perspective," said Hochstein.
There have been delays for the start of the local sugar beet crop as well.
"Certain areas for sure. The last few days have been good. A lot of talk this morning has been people thinking by the end of next week (April 22-28) we'll be going. In the end, we're not too far behind. But in the Enchant area they'll be a while yet. They'll be a couple of weeks for sure," said Arnie Bergen-Henengouwen, president of the Alberta Sugar Beet Growers Association. "April 15 is kind of a good, basic target date. There is seeding going on."
With the Municipal District of Taber still under a local state of emergency for overland flooding, farmers have had a rough start to their spring.
While the warmer weather over the past several days has helped dry some areas out, some are still under large amounts of water.
Rural roads have also been closed throughout the region because of damage to infrastructure caused by the water.
"Some places are looking better than what they have been but there is lots of standing water, lots of large slews out here. Some have shrunk when the frost went out so they've gone down but there its still lots of water. The roads are extremely soft, there's lots of damage to roads and to irrigation ditches," said Lynn Jacobson, president of the Alberta Federation of Agriculture.
The rough condition of the roads around the M.D. is a big factor that can often be overlooked but right now many roads could not handle the load of trucks needed for farming.
With no set date for when trucks will be back on rural roads, Jacobson is hopeful that they will be ready to go in the near future.
"Right now you couldn't get a truck down our roads that's for sure. They are soft, washouts on them so trucking right now is anybody's guess but I'd say probably another week and a half or two weeks before. That will based on where you are and what road's actually look like," he said.
In Jacobson's area (Enchant), the flooding is still a major issue which will further delay the ag season.
"Since we were basically one of the last ones to melt, we're starting the process later than Taber. For irrigation, ever quarter is different. The main ditches are starting to open up now so there is going to be a lot of water flowing," said Jacobson. "Getting on to the land, I would say, things aren't going to get serious until the first week of May."