M.D. briefed on flooding protocol by recovery branch
Posted on April 18, 2018 by Taber Times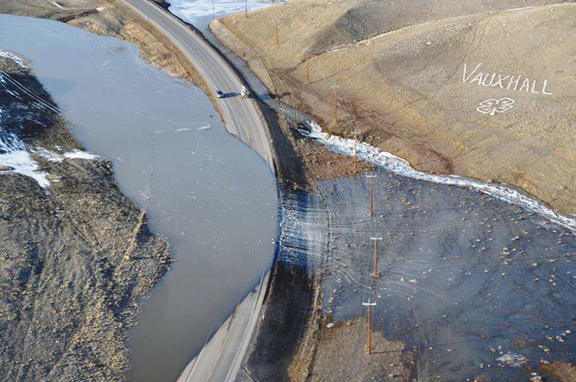 ROGUE RIVER: Floodwaters pour over Highway 36 earlier in 2018 near the Oldman River bridge. TIMES FILE PHOTO
By Cole Parkinson
Taber Times
cparkinson@tabertimes.com
With the local state of emergency still under effect in the M.D. of Taber, the Government of Alberta Recovery Branch has made their presence felt throughout the overland flooding.
A delegation was present in M.D. council chambers during their regular meeting on April 11 to touch base on their procedures when these types of events happen.
"One of the ways we organize recovery is in these four pillars or elements, people, economy, reconstruction and the environment. At the centre of this is the local community and stakeholders. It's very important to lead to recovery and it starts on day two. You know your community, you know your citizens, you know what your long terms plans and goals are so you leading the recovery is quite important," said Jennifer Dolecki, director of community recovery services. "It's always a great idea to think about recovery early on."
Their plan focuses on four major facets which helps them organize and differentiate when dealing with major events.
"We've found by organizing recovery into these four elements it helps us coordinate issues and think about them differently. There are issues that come up every event and that can be helpful to think about in these ways," added Dolecki.
The first step in the procedure is ascertaining the people with their objective being to ensure the right resources are available to support the physical and mental well-being of all in involved.
"One of the biggest things here is your social supports. For your first responders they are on day 18 and they are going to be getting tired. I'm sure they are very well aware of that, there is also everyone else who are subsidiary to the first responders and are supporting the first responders. You're going to have to pay attention to how you are doing too, that's very much in the forefront of things and your psychosocial health and well-being is really important as well," continued Dolecki. "Usually communities can pull together really well and they have peaks and valleys on things."
The second revolves around economy with objectives of job creation and economic diversification.
"You'll have to consider whether or not you've had impact to your sector and what that means," said Dolecki.
The third element comes in the form of re-construction after the disaster.
With this part of the plan they focus on solutions and responsible development as well as ensuring infrastructure is operational and safe.
"This is getting into re-building. If you have a lot of homes damaged and a large construction issue, there is a lot of planning and organization that goes around that," said Dolecki.
In terms of M.D. concerns, farming and agriculture was a topic brought up by council.
As the spring continues to present challenges with the amount of water on land and roads, farmers have had a delayed start to the season.
While land hasn't been the M.D.'s main focus, they are still thinking about potential ways to mitigate the water currently on land throughout the region.
"Being spring, roads that are going to be closed or flooded that's going to be one of the main impacts here. Our number one priority has been life and buildings but there's going to come a time where farmers are going to want to get in their field. That's going to be another step, these are $1 million plus quarters of land, a lot of them, they are a huge investment," said Reeve Brian Brewin.
The final pillar of the recovery branch plan is related to environment and it works around protecting and re-establishing a healthy state as well as mitigating long term environmental impacts.
"Certainly one of the things that is going to come up is your debris management which can impact the environment," said Dolecki.
While providing assistance to recovery is a major part, Dolecki says they also offer different programs.
"One of the things that my area does in addition to providing assistance to recovery is we manage a disaster recovery program. This is a conditional grant program that has some criteria that has to be met but essentially for individuals it provides the basic essentials for life so food, shelter, clothing, that type of thing and some financial support to rebuild," she said.
With these grants though she highlighted the fact it isn't insurance so the replacement of items would not be high end but rather on more of a budget level.
"It's really important to remember that since this is a conditional grant and it's a return to basic functionality, it's not insurance," added Dolecki.
On a municipal level it works in mostly the same way.
If the M.D. wanted to make changes to their infrastructure after an event, the grant wouldn't cover the upgrades unless they were required to.
"If you have damage to infrastructure, say a road or a single lane bridge, we will pay to return functionality for the single lane but if you wanted to take the opportunity to build a two lane bridge, we don't upgrade unless there is a code requirement," added Dolecki.
With the M.D. council and staff incredibly busy over the weekend in order to try to mitigate damage done by the flood, there will be a significant bill.
Applying for grants for these types of events has to be done within 90 days and can take a few months to be reimbursed.
"The average can range from six to 18 months to get approval. We reimburse so you will have to expend the funds and submit to us to get reimbursed," said Dolecki.
With the M.D. working closely with the local irrigation districts, Taber Irrigation District, St. Mary's Irrigation and Bow River Irrigation District, there was a question on whether they could also recoup some of their financials.
The delegation assured council that they would as long as they had their expenses recorded.
As M.D. crews continue work around the clock to protect life, buildings and infrastructure across the M.D., they also talked about what happens after with rebuilding and repairs.
Staff had questions on who could be used with the repairs and how the grant would be applied with whatever they chose to go with.
"You can use your own forces but it is at a reduced rate and most of the costs are for overtime or an operator who is operating equipment. Regular wage is not," said Dolecki.
While using their own staff was a definite possibility, the delegation said they quite often see municipalities go with outside help.
"Typically we see municipalities using contractors for these projects," said Evan Surridge, team lead.
A motion was put forward to apply for the grant and was passed unanimously.
Coun. Jennifer Crowson was absent from the meeting.