Lantic aids volunteer fire services
Posted on December 6, 2017 by Taber Times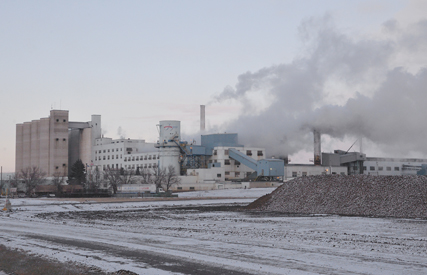 SUGAR SHACK: The 2017-2018 sugar beet campaign was still fully underway at Lantic Sugar Inc.'s processing facility when a skiff of light snow blanketed the area on Sunday morning. TIMES PHOTO BY TREVOR BUSCH
By Jared Williams
Taber Times
Lantic Sugar has generously donated a sum of $2,500 to the M.D. of Taber for the purpose of helping out the M.D. Regional Fire Service.
This year the M.D. has received a total of $45,960 in donations from an array of charitable companies and citizens.
The money is put to good use, helping buy things such as new level two hazard suits, emergency livestock trailer and vehicle extrication equipment. To show some gratification to Lantic Sugar, the M.D. will be sending out a personal thank you letter with some photos of the equipment, hoping that it will show the money that was given was used well.
Another way the M.D. has shown gratitude towards the considerate people who have given money is by writing names of some of them on the emergency livestock trailer that is based in Vauxhall.
With such a tight-knit community, things like the hazmat suits will be able to be used by all five services in the M.D. not just Taber, although they are based in Fire-Station Four here in Taber.
Lantic Sugar has also donated to the Taber Fire Department, as they felt that both the M.D. and Taber Fire Departments were invaluable to the community.
"We try and fund projects or make donations to those that impact our employees. Quite a few of our employees live in both regions, so we felt that we need to recognize both the town and the M.D. moving forward, especially on fire prevention," said operations manager Andrew Llewelyn-Jones. "Taber is one of the big communities, we do grow sugar beets in other areas too, but we always look where we can give back to the community."