Shields voices sugar beet concerns
Posted on November 1, 2017 by Taber Times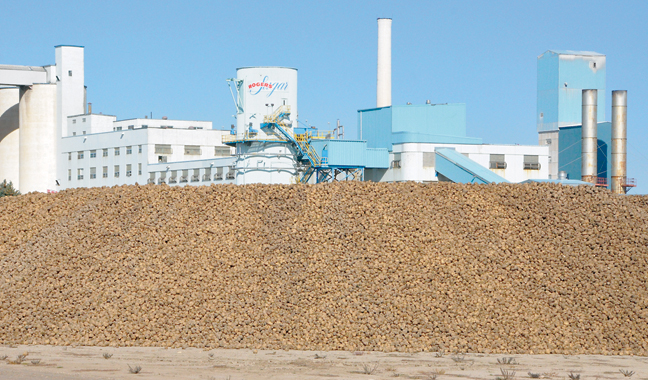 TIMES FILE PHOTO
By Trevor Busch
Taber Times
tbusch@tabertimes.com
The future of Taber's sugar beet industry could be at risk as the provincial carbon tax eats into plant revenues and operator Lantic Sugar grapples with other concerns, including the facility's advanced age.
That was the word from Bow River MP Martin Shields, speaking to constituents during a roundtable discussion hosted at the Taber Legion Hall in October.
"The general manager was very blunt and open with us — we had an assistant deputy minister of agriculture there — and we had a very forthright, blunt conversation," said Shields, in reference to a recent beet tour he attended along with other dignitaries. "We're talking $2 million-plus on the carbon tax now that's costing them, and that's going to go up."
The huge sugar facility's age is compounding problems for its operators, according to Shields.
"This particular industry — and Lamb-Weston is going to have similar problems — but the sugar plant has got some different problems because of the age of it, and that was part of our conversation, because the first number thrown out was maintenance, and he's fighting with two other plants for the money that will be available for maintenance."
Although the company is trying to address environmental concerns moving forward, Shields reported timelines are simply too daunting to be feasible.
"Now they're working on trying to figure out how — and they believe there's ways they can solve the environmental issues with three or four things they're doing — but they're getting no recognition for it from the government, environment, it's a stonewall for them. They're trying to do it, to meet the regulations environmentally. The other, bigger problem, is water. And that is going to cause them some problems. And they're asking — we need your help, we can't transition in your timeframe. We can't do it."
A perfect storm of negative impacts is making it difficult for the facility to maintain operations as it has in the past, and some harsh realities are currently being weighed.
"The bigger number, which he finally got to, is because of the age of that plant. And that's a big number," said Shields. "And if you keep piling on the rest of it — and I was very blunt — saying how much of a risk it is for the communities in this jurisdiction. Here in the M.D. of Taber and the Town of Taber, and including the JBS plant in Brooks and County of Newell — those plants are at huge risk of survival. JBS is an international company, they could close tomorrow and be gone. That's 2,400 jobs. The Taber sugar factory is at huge risk because of the age of that building, taxation, and what they're trying to do to meet those environmental standards. So the push to the government people was you need to understand if you want to make different guidelines, there needs to be a transitional process to get to those deadlines, or we can't make it."