Huge success for Foodgrains project
Posted on August 24, 2017 by Taber Times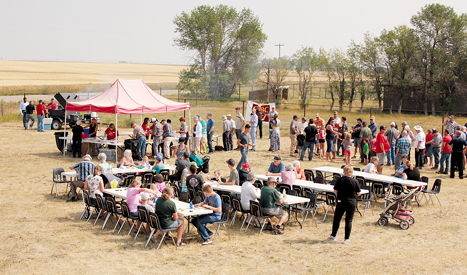 TENDING TO THE CROP: There were 12 combines in total that helped with the 2017 Taber and District Foodgrain's Project. TIMES PHOTO SUBMITTED
By Greg Price
Taber Times
gprice@tabertimes.com
The summer heat has pushed August's Taber and District Foodgrain's Project to its greatest heights.
There were 150 people who came out to the thank-you lunch for volunteers, where 12 combines, eight trucks and three grain trucks came out for the harvest.
"It's the best crop we've had for the project in a number of years. We were right around 100 bushel per acre," said Jeremy Wind, chairperson for the Taber and District Foodgrain's Project. "We combined everything in two hours."
That amount topped last year's 85 bushel per acre which brought in approximately $70,000, with this year's crop expected to raise between $80,000 to $100,000. This year's foodgrains project was harvested on a 150-acre field, four miles south of Taber.
The proceeds of the crop are given to the Canadian Foodgrains Bank and is matched by the federal government on a 4:1 ratio. In 2016-17, Canadian Foodgrains Bank helped over 900,000 people in 35 countries. Foodgrains Bank programs are implemented by its 15 member agencies in the developing world.
"They do projects all over the developing world. Food aid, irrigation projects, farming best practice, nutrition for women and children…things like that," said Wind. "I know the latest project they have started is in South Sudan, there is a massive famine there right now."
Over 20 million people in South Sudan, Nigeria, Somalia and Yemen are at risk of starvation due to famine according to the Canadian Foodgrains Bank Web site.
The Taber and District Foodgrain's Project has been in existence since 1997.
"I feel that the Canadian Foodgrains Bank is a great cause who do really good work. To see the community come out seems to agree with me with that many people coming out," said Wind, adding he has been involved with the project for seven years now, chairing it for five. "It's very encouraging to see."
A team from CIBC provided and served lunch as business and community members also donated cash and service in kind towards the project to keep input costs to a minimum to run the harvest.
"Locally it's getting bigger every year. We are definitely seeing growth in the number of people and organizations being involved," said Wind. "The number of people showing up for harvest and the number of monetary donations we are getting is growing. We have some expenses, so we try and get donations to offset those expenses, so the entire proceeds go to the Canadian Foodgrains Bank."