Oldman Watershed Council celebrates water charter at AGM
Posted on July 5, 2017 by Taber Times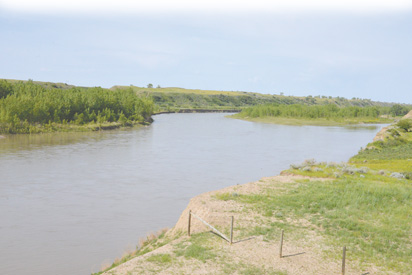 TIMES FILE PHOTO
By Tijana Martin
Southern Alberta Newspapers – Lethbridge
The Oldman Watershed Council celebrated its accomplishments during the recent 12th annual general meeting.
One of the council's biggest accomplishments is their latest initiative, the Southern Alberta Water Charter.
The charter aims to ensure clean, clear drinking water for generations to come and so far, more than 42 organizations and individuals have already pledged.
"It's really exciting because it proves we are moving from talk to action," said Anna Garleff, communications specialist with OWC.
Each pledge must commit to at least one new project that will help improve the watershed.
"The variety is so huge that it's really inspiring," said Garleff. "We've got kindergarten kids becoming gutter buddies; we've got students from the U of L, who've taught themselves how to do water quality testing and so on."
Municipalities and counties are putting forward large-scale policy changes as well as a result of the charter, Garleff noted.
"Southern Alberta is showing real leadership. This has not been done anywhere else in Canada, never mind anywhere else in Alberta, so we're pretty proud of the Oldman Watershed Council and southern Alberta."
In addition to the meeting was the second annual Southern Alberta Water Charter Showcase, where various representatives spoke about the work they've done to help protect our water, like Taber Irrigation District manager Chris Gallagher.
"We've signed the charter and we've got three different projects that we're working on within 2017," he said.
So far, they've constructed a wetland just east of the Taber reservoir and are in the seeding process.
"It's going to help us filter some of the water that's going through our Taber Lake lateral."
A drain water characterization and synoptic survey is being done to evaluate the quality of water that's received from surface and town drain sources "to try and figure out what's the best way to deal with that water and to mitigate for the effects on the water running throughout systems," Gallagher added.
Lastly, they're finding another use for a former irrigation canal delivery system which will allow them to absorb stormwater.
The OWC hopes people like Gallagher will help empower others to take action and it's not too late to sign the charter.
Those interested can pledge at http://www.oldmanwatershed.ca/proj/water-charter until the September long weekend.