District grand champion steer crowned
Posted on June 14, 2017 by Taber Times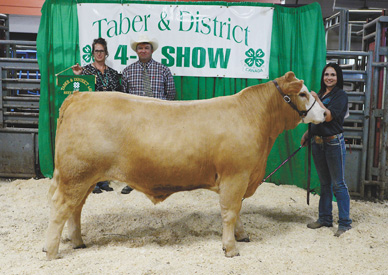 TIMES FILE PHOTO
By Trevor Busch
Taber Times
tbusch@tabertimes.com
Bon Ayr 4-H Beef Club member Sayge Turcato's steer 'Chuck' stole the show earlier this month taking district grand champion honours at the Taber and District 4-H Show and Sale.
'Chuck', a Charolais-Angus cross who weighed in at a well-marbled 1,445 pounds, turned out to be a positive payday for Turcato, who secured a price of $4.75 per pound or roughly $7,000 total at auction. The steer went to Setoguchi Farms.
"We raise our own, and we picked him out," said Turcato, 13. "I got him, and he was kind of the tamest one from the beginning — he was a pretty cool calf. At the beginning I didn't like him. He was all stomach and nothing else, we called him 'big guts.'"
Turcato has been a member of the Bon Ayr 4-H Beef Club for about four years, and lives with her family on a mixed farming operation southeast of Taber.
"She likes to show," said Sayge's mother, Alyson Turcato, of her daughter's achievement at the June 2-3 show. "She won champion heifer as well the next day, and she was the only kid in the district that had a breeder's herd, which is like the ultimate goal of 4-H. It's a three-year-old cow and calf, a two-year-old cow and calf, and a heifer project. Sayge's breed is Speckle Park."
Turcato noted her steer always had a good appetite, which probably contributed to his attractive qualities.
"Just a grower-finisher," said Turcato, describing her feeding regimen. "He picked up quite a few pounds near the end. He was always a good eater — he was the one that always hogged all the grain. The first one up to the bunk when you're beginning."
Showmanship, on the other hand, took more effort.
"He was harder to train than last year. He doesn't really like people that much. He didn't like my mom. He likes to go backwards," said Turcato. "I tried to make him look good, as much as I could. He was good with his feet (in the ring). I think he looked more show-ey because he has a white face. And he's pretty big, well built, pretty stocky and long. He's pretty deep, too, and he's finished."
4-H members can often grow fond of their animals through long hours working with them, and it can sometimes be emotional to see them go.
"Surprisingly I didn't even cry this year, I have every year," said Turcato. "But this year, it was easier. I led him all the way to the back and let him go. It was easier than I thought. I was not expecting it to be me when I won it. I was barely even paying attention when he slapped him. But it felt pretty good — probably won't ever happen again."