4-H heifer show champs
Posted on May 31, 2017 by Taber Times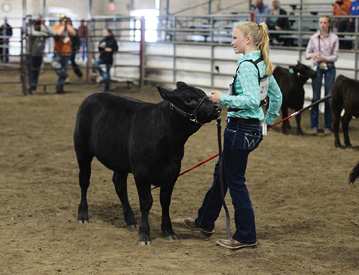 TIMES FILE PHOTO
The Taber Agri-Plex was busy on Saturday, May 20 with 4-H beef members from across southern Alberta.
In the morning, it was a beef learning day in which 4-H members attended four different sessions to learn the many opportunities of 4-H and how to properly manage your beef project and stall.
They had an ID station in which they had to identify different beef veterinarian supplies, then learned about the inside workings of a cow, and wrapped up the morning by building a replica of a cow's stomach with recycled material.
The afternoon was the South Regional 4-H Heifer Show which resulted in the following:
First Timers Class: Champion – Abbey Slorstad; Reserve – Zane Akune
Heifer Calf: Champion – Cody Scheirlinck, with his calf, Sugar Cane; Reserve – Chase Kellett with Mist
Bull/Steer Class: Champion – Kylea Jazen with JJJS Bullberry; Reserve – Sayge Turcato with Harley
Yearling Heifer: Champion – Carmen White with CW Becca; Reserve – Sayge Turcato with Mojo
Two year old Cow/Calf pair: Champion – Laryette Kellett with Blitz and heifer calf Grit; Reserve – Lyndsay Peltzer with Pippy and bull calf, Moe
Three year old Cow/Calf pair: Champion – Cody Scheirlinck with Sugar and Spice and heifer calf Sugar Cane; Reserve – Brooke Akune with Fuzzy Peach and heifer calf
Supreme Champion Female: Cody Scheirlinck with Sugar and Spice and heifer calf, Sugar Cane
Reserve Supreme Champion Female: Carmen White with CW Becca
Grand Champion Breeders Herd: Cody Scheirlinck with his heifer- 604, 2 year old – Sweetheart and 3 year old – Sugar & Spice
Reserve Champion Breeders Herd: Sayge Turcato with her heifer Mojo, 2 year old – Betty and 3 year old Mona
CD Land & Cattle Scholarship: Sayge Turcato
Overall Champion Showman: Sayge Turcato
Herdsman/Stall Award: Courtney Taylor