Bovine tuberculosis crisis update
Posted on May 10, 2017 by Taber Times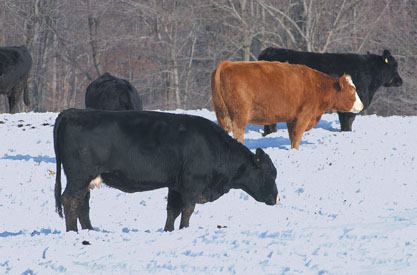 TIMES FILE PHOTO
By Trevor Busch
Taber Times
tbusch@tabertimes.com
The bovine tuberculosis crisis in southeastern Alberta has largely abated, but a post-mortem of the Canadian Food Inspection Agency's (CFIA) response to the problem in late 2016 is still raising questions.
Bow River MP Martin Shields reported that out of the quarantined herds, roughly 10,000 animals were eventually destroyed.
"There was another 10,000 or 12,000 out there that they finally relented and didn't, said Shields, speaking during a roundtable discussion with Municipal District of Taber council in late April. "But they were going to at one time slaughter them all. It was over 20,000 that they were looking at, and they ran into huge costs and challenges in trying to do that."
After the presence of bovine tuberculosis was detected in a cow shipped to the U.S. in October 2016, ranches near CFB Suffield were placed under quarantine. Some reports suggested the animal that was detected may have been of Mexican origin.
"What CFIA will tell me — and you'll sometimes see this in the media — it was a strain related to Mexico, and that's as far as they will go," said Shields. They still won't give me the documentation. I wanted the proof of the six cattle, the test results that confirmed it. They've never given it to me."
M.D. Coun. Dwight Tolten suggested that if this was the case, different processes may need to be put in place regarding importing animals from Mexico.
"The story I get from some of my cowboy friends is that these cattle came out of Mexico into the United States and came up through legitimate means to come. The only thing I would say is we're a country that monitors and vaccinates and all this stuff, and so is the United States. But I don't know about Mexico. And I would wonder that the origin, coming from Mexico, should go through a different process."
In December, the federal government announced that producers experiencing extraordinary costs due to bovine tuberculosis (bovine TB) quarantine measures would be eligible for financial assistance under the AgriRecovery Framework, to the tune of roughly $16.7 million.
CFIA follow-up inspections will continue, and will be ongoing on various properties throughout the region, according to Shields.
"So the properties that were quarantined, they will be back here sometime before May-June, they will be testing the properties. If they've gotten animals since, they'll be testing those animals, they'll be checking those properties, they'll be checking the community pastures. In six months, they will be back. In 18 months, they'll be back again to do it on these properties. Then in the fall they're going to do the trace outs, which means they will be far and wide. But what CFIA has told me, what they won't do this time is they won't quarantine properties. If they find reactors, they will isolate them."
Reeve Brian Brewin questioned reports that producers will not be able to return animals to various properties until certain conditions have been met.
"Is it true that they're not going to be able to graze the same lands that these cattle came off of?"
Shields indicated a wait period is mandated.
"They want 45 days of sunlight at a temperature of a certain height before they will clear those properties and community pastures."
Considering some of the problems that had been encountered during the quarantine and inspections process, Brewin wondered if anything could be taken away from the situation.
"Is there a better way of doing this? Have we learned something from this?"
Shields vowed to maintain pressure on the CFIA to focus on improving their crisis response in future.
"You had severe problems with the way you rolled this out. They're not admitting that — sort of. You know what you have to do, these guys didn't do that. I want to see their emergency plan."
Bovine TB is a reportable disease in Canada and has been subject to a mandatory national eradication program since 1923.