MP Shields continues bovine tuberculosis concerns
Posted on November 30, 2016 by Taber Times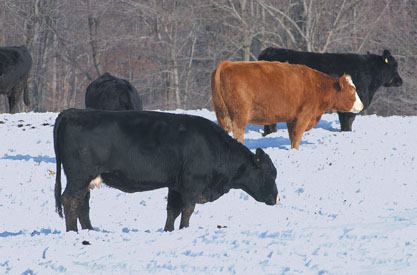 TIMES FILE PHOTO
By Trevor Busch
Taber Times
tbusch@tabertimes.com
Bow River MP Martin Shields is continuing to pressure the federal government for answers about when cattle producers can expect to see bovine tuberculosis inspections in southeastern Alberta wrapped up.
After the presence of bovine tuberculosis was detected in a cow shipped to the U.S. earlier this fall, more than 30 ranches near CFB Suffield remain under quarantine as Canadian food safety officials continue to test for the disease.
Rising in the House of Commons on Nov. 18, Shields pushed for a guarantee of compensation for the care of quarantined animals and herds throughout the winter.
"Mr. Speaker, Alberta and Saskatchewan ranchers are reeling from a single case of bovine tuberculosis. The CFIA is quarantining and starting to test herds. Ranchers are being told they cannot sell their animals until all herds are tested, which can take many months. These producers do not have shelter or feed for these animals for the winter. The CFIA is forcing ranchers to hold their animals until they are all tested and TB-free. Will the Liberals compensate ranchers for the feeding and housing of these quarantined animals over the winter?"
Parliamentary Secretary to the Minister of Agriculture and Agri-Food, Jean-Claude Poissant, responded to Shields' question while asserting that the CFIA has added more staff to speed the process moving forward. However, Poissant stopped short of suggesting the Liberal government would provide compensation for feed and maintenance costs.
"Mr. Speaker, every time a reportable disease is suspected or confirmed, the objective is to minimize the impact on our producers while respecting Canada's domestic and international obligations. Proper and prudent controls are essential to protecting the health of Canadian livestock. The Canadian Food Inspection Agency, the CFIA, has assigned more employees to help with the investigation, which will include on-farm testing. CFIA labs are also getting ready to analyze other samples for testing purposes. The CFIA will provide compensation for all animals that it orders destroyed because of tuberculosis."
Rising again on Nov. 21 in the House of Commons, Shields changed tactics advocating for emergency compensation.
"Mr. Speaker, southeastern Alberta and Saskatchewan ranch families are languishing from a single case of bovine tuberculosis. These families are in the dark and are extremely stressed about their financial situation. The herds have been quarantined by the CFIA, they have been stopped from selling their calves, and they have lost their one payday a year. Testing herds is taking months. Help is needed now. Will the Liberals implement an emergency relief program for the ranchers whose herds have been quarantined by the CFIA?"
Not unlike a fly buzzing around a lightbulb, this time Shields' persistent questions on the issue appeared to pay off, as the response was crafted by the heaviest political hitter in the department, Agriculture and Agri-Food Minister Lawrence MacAuley.
"Mr. Speaker, I appreciate my honourable colleague's question and concern. Our government is committed to protecting human and animal health, and has launched a full disease investigation into this case. We understand the difficulties some ranchers may be facing as a result of bovine TB. That is why we are ensuring that CFIA does its job as quickly as possible in conducting its investigations. We also need to ensure the industry is cleared of all this disease."
Bovine TB is a reportable disease in Canada and has been subject to a mandatory national eradication program since 1923.
The CFIA indicates Canada is considered to be officially free of the disease, although isolated cases may occur.
The most recent case of bovine TB detected in Canada was five years ago in British Columbia.
Livestock producers are eligible for compensation if animals are ordered to be destroyed.
More recent reports have indicated the CFIA's investigation has expanded into southwestern Saskatchewan, where other ranches have now been quarantined pending inspection.