Molnar Farms earns Spirit of Taber accolade
Posted on January 6, 2016 by Taber Times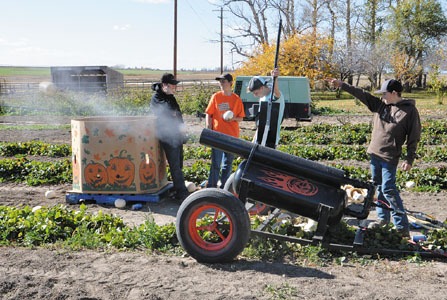 Times file photo
By Nikki Jamieson
Taber Times
njamieson@tabertimes.com
This year, it's all about showing off the spirit of the pumpkin patch.
Citing their annual pumpkin festival as the reason why, Molnar Farms has won the coveted Taber Chamber of Commerce Spirit of Taber award for 2015.
"We are very honoured that we are receiving the award," said Jennifer Molnar, co-owner of the family farm.
"I believe we won because of the pumpkin festival, and trying to make it a community event, something for kids to enjoy doing."
Located in the community of Barnwell, just west of Taber, that "community event" has recently put on its eighth annual pumpkin festival, and featured new attractions such as a bouncy castle and petting zoo.
Old favourites, such as the pumpkin cannon and hayrides, continue to be a draw for crowds and make the festival a tradition for many families.
And of course, we can't forget about the pumpkins, which are the stars of the show. Whether you are picking, decorating or shooting them across a half mile out of a cannon. With all sorts of sizes and types, ranging from the hulking 50-pounders to itty-bitty sugar pumpkins, there is a pumpkin to be had for everyone.
Jennifer and husband James Molnar had originally started the Molnar Pumpkin Festival in 2008, when the Molnar's basically decided to just invite everyone around to come and pick pumpkins. It was the second year that they had been growing pumpkins, and had so much fun with friends celebrating the pumpkin harvest the first year, they decided to get everyone to join in on the excitement the following year.
Since then, the pumpkin festival has become an annual event in early to mid-October that has attracted more then 3,000 guests – more then twice the attendees that the Molnar's had expected to welcome two years ago – from as far away as Fernie, B.C, and it has become one of the largest events within the region, second only to Cornfest.
"I believe that the pumpkin festival is good for the whole community, because it is somewhere for families to go and enjoy some farm fun. Feed the animals, pick a pumpkin, it's just not something the kids can do everyday. Bringing back families to their farm roots."
Because the festival has grown so quickly, the Molnar's recruited volunteers to man the entrance and parking lot in exchange for a donation to their organizations.
They have sought sponsors for the event and have been working with the Taber Regional Joint Economic Development Committee to continue to grow the festival further.
The Molnar's will receive their award during the awards dinner on Jan. 15, 2016. Other award recipients include Kinniburgh Spray Service Ltd. (Small Business of the Year), Doug Emek (Outstanding Citizen of the Year) and Wade's House Moving and Heavy Hauling (Customer Service Excellence).