Surface rights discussed
Posted on March 4, 2015 by Taber Times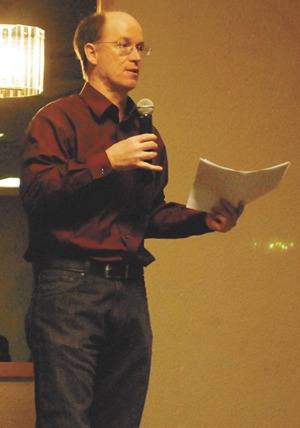 TIMES FILE PHOTO
By Trevor Busch
Taber Times
tbusch@tabertimes.com
Local surface rights advocate Daryl Bennett delivered an update on transmission line and surface lease concerns for landowners during a recent Action Surface Rights Association meeting in Taber.
"Last year, we talked quite a bit about the AltaLink powerlines that were coming through the area, from Picture Butte to Etzikom right through west of Taber around the Tempest area," said Bennett, speaking at the Heritage Inn. "There was a line coming from Cardston to Etzikom. There were five powerlines planned for southern Alberta."
Controversial from the outset, a planned transmission line route by AltaLink that would have bisected the M.D. of Taber has since been postponed.
"The Taber-area powerline has been postponed," said Bennett. "The Cardston to Etzikom powerline has been postponed. The reason why is they're not building the windmills they were planning on, they don't have the need right now."
Bennett described how objections to transmission lines obviously stem from routing, rather than during the needs assessment process, when landowners should have initially lodged objections.
"Now there's an uproar. They have two or three different routes, and now the landowner knows its going on their land, they're upset —they go to the AUC (Alberta Utilities Commission) and say we don't need this powerline. Well, two years ago we had a hearing, and it's already determined there's a need. Now we're just determining if it goes on your land or your neighbour's, you fight it out, and then we'll try to determine where the powerline is going. Even though these lines have been postponed, they've said that before they can come forward again, they're going to need another needs assessment hearing."
Bennett encouraged landowners to take an active interest in needs assessments in future if they wish to prevent future interference from outside sources.
"So if you see another notice in the paper that southern Alberta is having another needs assessment hearing for powerlines, and you don't do anything about it, don't complain a year of two later when it's coming on your land."
Political initiatives that have since stalled were largely responsible for the postponement of various wind energy projects.
"The reason why they haven't build some of these windmill projects is that some of them aren't economical anymore with the lower price of electricity, plus Premier Alison Redford had promised to double the carbon tax credit, from $15 per ton to $30. That didn't happen," said Bennett. "I have a slightly different viewpoint on the windmills. I think they're heavily subsidized, just based on the fact that we have to build transmission lines that we all pay for, plus the carbon tax credit. Without those subsidies, a lot of these wind power projects are not going forward. That may change in the future."
Bennett noted that the Prairie Home wind energy projects 1,2,3 (a planned 76 turbines) for the Wrentham area has been postponed.
Landowners need to be wary of what they are signing when considering wind energy projects on their land.
"If you're looking at wind power projects, I would strongly encourage you to be very careful of leases that are being offered," said Bennett. "There are some operators out there where some of the leases aren't what you would want. It's highly unregulated. If they can convince you to sign it, then you're bound by it. You also need to know there's a difference in rates that are offered. There are some lucrative contracts that are out there, there's others where the landowners are being screwed. Be very careful on that."
Reclamation of the property utilized must also be properly conducted, according to Bennett.
"When they leave, that cement foundation is usually cut off a metre and half and covered by dirt. My agricultural experience is that nothing will grow on top of that for the rest of time because there's not going to be any subsurface water flow."
In the oil and gas industry, recessionary impacts will have a trickle-down effect on front-line services for landowners.
"The oil industry is obviously cutting back, so you're not going to see as many consultants coming out, you're going to actually see the land agent from the company coming out, getting leases signed and dealing with things. They're stretched thin, you're going to see a delay in dealing with your requests, some of your requests might be ignored. They're doing a lot of internal cost cutting as well," said Bennett.
Bennett suggested some landowners have been hoodwinked by oil companies in recent months through a mail-out campaign seeking reduced lease payments.
"One thing we've just seen the last couple of months is they're sending out notices to landowners saying we'd like to suspend this well or we're going to abandon this site, and it would be really nice if you would decrease your rental by 50 per cent and then we'll get around to something sometime in the future. Usually they don't. You're not required to sign those — usually those are being sent to older people, maybe people in the old folks home that don't know what they're doing. Don't sign those."
Accepting company shares in lieu of annual lease payment is not a recommended procedure, added Bennett.
"There's a lot of companies going bankrupt, or are very close to bankruptcy. Some are saying we don't have enough to pay our annual rent, why don't we give you some of our shares? If you were take some of their shares, it can be a problem, because if they don't pay the rest of their rent, now you're a part owner in their company, you may be prohibited from going to the Surface Rights Board to ask for a rent review or unpaid compensation. So I'd be very careful accepting shares from a company that can't even afford to pay their rent. You might assume some of that liability."
Large oil companies have also found a profitable way to devour their smaller competitors that doesn't always end well for the lease holder.
"As a result of the situation in the oil industry, there's going to be a lot of mergers," said Bennett. "Some of the bigger companies are just waiting for some of the smaller companies to go under. They'll cherry pick the best assets — sometimes what they'll do is the lowest-producing assets are split off to a small company, that company goes bankrupt, then it's the taxpayer that's responsible to pay for that. The Orphan Well Association may pay for the reclamation. That's just the way that these companies are arranging things so that the larger ones will benefit from this economic downturn. That's always happened in the past."
The result of a bankruptcy with regard to a landowner's lease is often a disappointing process for those seeking redress for funds owed.
"So a company goes bankrupt, and you want to get your annual rental. While that company is in bankruptcy, the Surface Rights Board will not hear your case. Typically what happens is it goes to a bankruptcy hearing, you are an unsecured creditor. A judge is going to rule that maybe you get 20 per cent of what you're owned. Later on, that is the only money you can go to the Surface Rights Board for. You're not going to get 100 per cent. That's very offensive if you objected to the right of entry in the first place," said Bennett.
Bennett noted potential court challenges are in the offing to help rectify some of these issues, but for the time being the status quo remains the industry standard.
"So an oil company wants to come on my land — there's a lot of unscrupulous operators out there, some who have gone bankrupt before. They get a licence to come on your land — you don't want them on, they force their way on with a right of entry. A year later they go bankrupt, they're not paying the annual rent. I didn't want you in the first place, that money that you're paying me, that the board determined that you have to pay me is to compensate for my loss. Now we're going in front of judge and that's getting whacked by 80 per cent. I'm getting 20 per cent on my loss and there's nothing I can do. That's the situation."