Four decades of a love of farming tough to beet
Posted on February 18, 2015 by Taber Times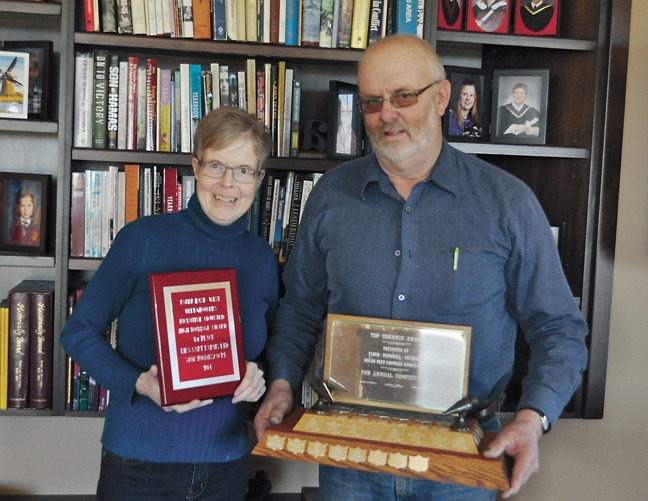 Times photo by Greg Price
By Greg Price
Taber Times
gprice@tabertimes.com
The top beet king for 2014 was crowned late last month by the Sugar Beet Grower's Association, with the overall champion very gracious in his acceptance.
Lievaart Farms near Barnwell ranked first in adjusted tonnes per acre at 34.07 to not only be top grower in Taber, but southern Alberta as well.
"It is not our doing, it is asking the Lord for blessing on the crops," said Dan Lievaart, who got the bumper crop on 285 acres, northwest of Barnwell, with the help of wife Marie and son Tom (Marie). "We had a good crop rotation and we kept them happy with irrigation. We try to make the land better and build on it with a long-term crop rotation."
That happiness also included some fortuitous timing as well as Lievaart planted the seeds at just the right time to coincide with Mother Nature.
"Some guys seeded the day before me or two days before me and they got the frost and I didn't. I missed the frost by one day," said Lievaart. "That's the way it goes sometimes, it's out of our control when the frost comes."
Lievaart has enjoyed his farming every year for 40 years since moving from Holland in 1974. A veteran in the ways of farming, the family is still very humble when it comes to its craft.
"Even after 40 years, you have to treat farming like you don't know," said Lievaart, adding he does all his field preparation in the fall.
"You treat every year like it's your first year."
The first year the award was handed out in 1981 the winner had an adjusted tonnes per acre of 29.45. Many years since then you would see top winners in the low to mid-20s. Lievaart attributes the big jump in recent years to one simple fact.
"It goes up because of the varieties," said Lievaart. "I'm doing the same things as 30 years ago, but the yield is higher because of the new varieties that were not available before. There were a lot of good farmers 40 years ago, but we have better varieties to work with now."
Scanning the top 10 growers in Taber and you see all but one breaking the 30 mark. For southern Alberta, all 10 are well past the 30 mark which includes Lievaart Farms (34.07), Zeimak Farms (34), J&K Kreft Farms (33.92), Vucurevich Farms (33.91), Laus Stiekema (33.44), Bert Kolen Farms (33.20), Frank and Jim Sekura (33.07), Quattro Farms (33.05), Tim Pavka (32.40) and Geerligs Farms (31.87).
"It was all so close, anyone could have won it. There are so many good farmers in this area," said Lievaart, adding the difference between Lievaart Farms and fellow Taber-area growers Zeimak Farms was approximately a mere truck load.
"We're very thankful to the Lantic staff for their support. They have four field staff that give us grower support and advice. They are there for us whenever we need them."
The top ten beet growers for just the Taber area included Lievaart Farms (34.07), Zeimak Farms (34), Frank and Jim Sekura (33.07), Tim Pavka (32.4), David and Marleen Lauwen (31.49), Koomen Farms (31.1), Kleinjan Farms (30.58), Kevlon Farms (30.4), Handy Farms (30.32) and Bettcher Farms (29.86).