Several Oil Kings teams back on the ice for CAHL action
Posted on January 12, 2022 by Taber Times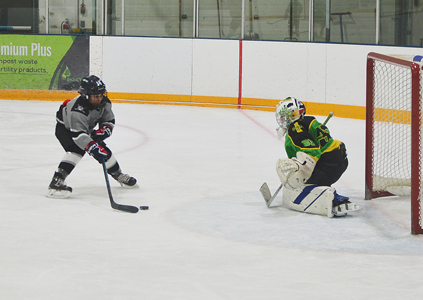 TIMES FILE PHOTO
By Cole Parkinson
Taber Times
cparkinson@tabertimes.com
As teams begin returning to the ice for the second half of the Central Alberta Hockey League schedule, several Taber Oil King teams have got their feet under them for the 2022 portion of the season.
U11 Tier 3
Two games were on tap for the U11 Tier 3 Oil Kings and the team took care of business as they collected two wins.
On Saturday, the team welcomed in the Coaldale Cobras and the home team skated to a 5-4 victory. Hayden Eldridge and Cole Swanson each found the back of the net twice, while Kash Kover collected two assists. Ryder Nielsen had a single goal while Carley Fletcher, Dalan Blasetti, and Rowan Beckie had an assist each. Brodyn Sutka faced 26 shots in the Oil King win.
Sunday saw a much more lopsided win for the Oil Kings as they skated to a 14-2 win in Irvine. Eldridge couldn't be stopped as he put six past the Irvine netminder. Not to be outdone, Nielsen also had four goals and an assist, Swanson had a goal and three assists, and Dalan Blasetti had two assists and a single goal. Beckie and Kash Kover found the back of the net while Seth Jespersen collected an assist. Sutka was back between the pipes and made 21 saves.
The team now has the next two weekends off before returning on Jan. 29 against Coaldale and Jan. 30 against Vauxhall.
U11 Tier 6
The U11 Tier 6 Oil Kings had the past weekend off, but will return on Saturday when they welcome in Pincher Creek for a 10:30 a.m. puck drop. On Sunday, they see Siksika come to town for a 10:30 a.m. game.
U13 
Like the U11 Tier 6 squad, the U13 Oil Kings also saw no games on the schedule this past weekend.
The team returns on Jan. 23 for a game against Brooks.
U15 
Over the weekend, the U15 Oil Kings hit the ice for a single home game. Lethbridge travelled to Taber on Sunday for an afternoon matinee which resulted in a 12-2 win for the visiting team. Taber saw goals from Ryan Gray and Evan Untereiner while Nathan Rijkens also collected an assist. Ty Dorin stopped 40 of 51 shots between the pipes while Avery Remfert made 14 saves on 15 shots.
The U15 Oil Kings will return this coming weekend for another single game as they travel for a game against Brooks on Sunday at 5 p.m.
U18 
Only one game was on tap for the U18 Oil Kings this past weekend and it resulted in a 10-1 loss at home to Bow Island/Foremost. Kole Reynolds had the lone Taber goal in the game. Chase Plumb made eight saves on 10 shots while Wade Ypma had 18 saves on 26 shots.
The U18s hope to turn the tides this coming weekend where they have a pair of games. On Saturday, they travel to Raymond and then return home on Sunday for a 3:30 p.m. puck drop against Lethbridge.